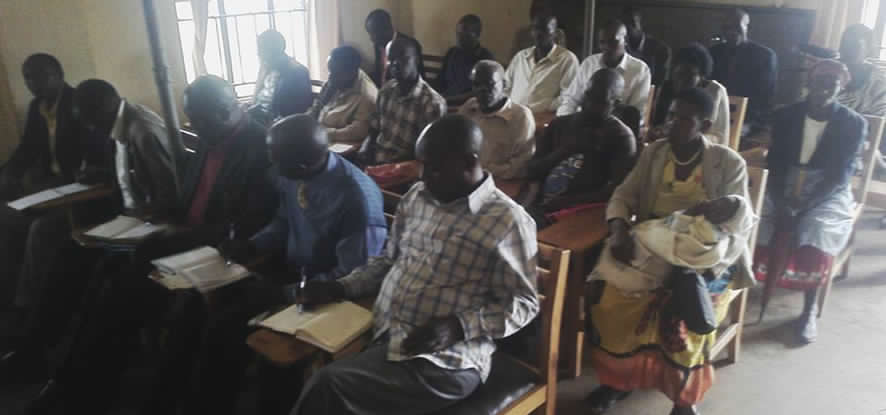 If the Bunyoro CM day was lively, the Kigezi Region CM day can only be described as pleasantly heated! Monday 28th November 2016 saw the gathering of hundreds citizens on invitation by KICK Corruption out of Uganda at Kirigime Guest House Gardens, Kabale, to discuss their demands for the region in regards to fight corruption and in line with the Region's Manifesto.
Unlike the Bunyoro discussions, citizens of Kigezi boldly challenged the leaders present, directly calling them out in regards to pertinent issues: the Police were accused of robbing citizens in the night; when and who are supposed to change the constitution; why corruption still exists despite the various laws and institutions to fight corruption; What is being done about the situation in Kasese; infrastructure was cited as not favourable for the physically handicapped; segregation according to religion in recruitment (KICK-U was asked on not having a single muslim amongst staff); inadequate promotion of mechanised Agriculture by Government; declining education standards since the introduction of USE and UPE; Ntungamo-Kabale road had already broken down before the official handover to government.
One citizen openly challenged the District Security Officer present to explain why after two months of training in Community Policing as a Crime preventer to serve their country they are not being considered and what plans they had for them. After a fast paced and engaging discussion between leadership and citizens, consensus was reached; Gatherings like the CM days should be held regularly and MPs be present; the District Accounts committee should have opposition members on it; and MPs should also pay taxes.
Robert Kakuru, the Executive Director of KICK-Uganda shared the whys and wherefores of the Kigezi CM day; sharing the key issues of Kigezi region as contained in the Kigezi Regional Manifesto: Decisive action against corruption; Increase investment in agriculture; Improve road infrastructure; Improve health service delivery; Enhance quality of education; and Guarantee equal opportunities for marginalised sections. He urged the people of Kigezi to respect each other's' views and support each other and work toward improving governance and service delivery in Kigezi.