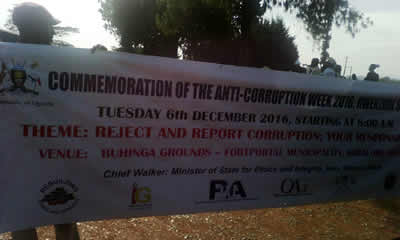 Kick Corruption out of Uganda joined the rest of the world to commemorate the Anti- Corruption week which was held on 6th December, 2016 in the Rwenzori Region, particularly in Kabarole district. The event was graced by the Hon. Minister of State for Ethics and Integrity, Rev. Fr. Lokodo who officially flagged off the event with a one hour live band procession that steered up residents and onlookers in Fort Portal town. The theme of this year's Anti-Corruption week was 'Reject and Report Corruption; your responsibility. ''Reject and Report Corruption; your responsibility.''
Hon. Minister for Ethics and Integrity ascertains that Uganda is a signatory to the International charters that shows government's commitment to fight corruption. He also applauded the Inter Agency Forum for the dedication and the efforts in place to address corruption, a big hindrance to service delivery success in Uganda. He further emphasizes that Government is more than committed to challenge the malaise called corruption and called upon all Ugandans to reject and report corruption by working closely with all anti-corruption agencies, both state and non-state actors. He recognized the endless efforts of Civil Society and  the support extended to the struggle; he pledged to render all the support needed by anti-corruption organizations like  Kick Corruption out  of Uganda and encouraged them not to grow weary in the fight. PPDA also alluded to the fact that government cannot fight corruption without collaborating and working closely with Civil Society. This calls for productive collaboration and partnership. Kick Corruption out of Uganda equally works and is proud to associate with government and its programs are geared towards fighting, rejecting and reporting corruption.
The DPP and Police in Rwenzori region were put in the spotlight for neglect and poor handling of cases by the citizens. A number of corruption cases were laid before the Hon. Minister by the Rwenzori Anti Corruption Coalition. This called for total commitment from all the leaders from the Rwenzori region that went ahead to sign pledge cards before the citizens and promised to follow up the cases and take immediate action.